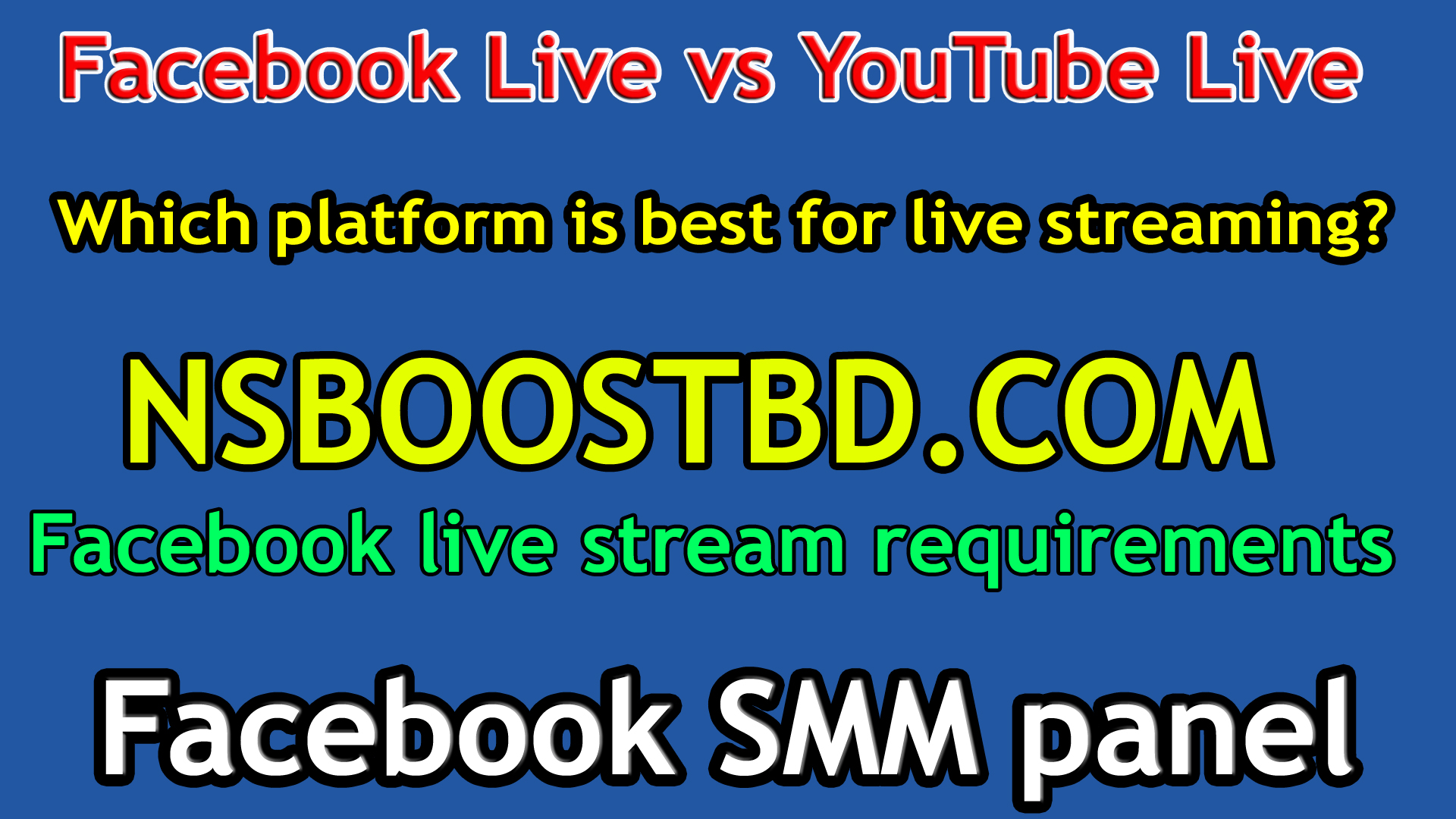 Facebook Live vs YouTube Live | Requirements & Advantages
Facebook Live vs YouTube Live: What is the difference? Interesting topic that has been on the minds of many people like me. In this article we will discuss the differences between these two live streaming platforms.

Facebook Live and YouTube Live are two of the most popular social media platforms on the internet. They both allow users to share live events and content with friends and family. However, there are some key differences between the two platforms that can affect how viewers experience these events.
Which platform is best for live streaming?
Facebook Live and YouTube Live both have their pros and cons. Facebook Live is more popular because it can be used as a live video platform for Facebook users, while YouTube Live is more popular because it can be used as a live video platform for YouTube users. Both platforms have their own unique features that make them great for different purposes.
Requirements


Facebook live stream requirements
Facebook live streaming is a popular way to share videos and photos with friends and family. However, before you start streaming, you'll need to meet some key requirements.
There are a few things you need in order to be successful live streaming on Facebook. First, you need a Facebook account and a computer with Internet access. Then, you need to set up your camera and settings.

You can broadcast your Page, group, profile, or event to your Facebook account by making use of your mobile device or by installing an encoder on your computer and streaming directly from that device. For the sake of streaming using your computer, you'll need to make broadcasts using a professional live streaming device, also called a video camera and encoder.
Go live on Facebook from the mobile app:
Navigate to the Page, group, profile or event where you want to publish your live stream.
Tap the Live button at the bottom of the post composer.
Add a description to your video. You can also tag friends, check in to a location and add a feeling or activity.
Tap Start Live Video.
Tap Finish when you want to end your broadcast.
Go live on Facebook from a computer:
When going live from a laptop or desktop computer, you'll automatically be directed to Live Producer, which is also how you can go live on Facebook using higher-end production equipment and streaming software.
At the top of your News Feed, click What's on your mind, [Your Name]?
Click the three dots icon, then click Live video and you will automatically be redirected to Live Producer.
Write a description for your live video.
Click Go Live in the bottom left.
YouTube live stream requirements
YouTube live stream requirements are specific parameters that a YouTube user must meet in order to stream the popular video platform. These requirements can vary depending on the channel that the user is streaming from.
In order to stream YouTube, you will need a YouTube account and a computer that is compatible with the YouTube app. YouTube live streaming requires an internet connection and a compatible device.
When starting a YouTube live stream, there are a few key requirements in order to make it successful. In order to start a live stream successfully, you will need to meet the following requirements:

1. A YouTube account
2. A microphone
3. An internet connection
4. A webcam or an attached streaming device
5. A device with video software (like Adobe Premiere)
6. Some basic skills in video editing (like Cut and Paste)
Quality


YouTube live quality vs Facebook live quality
According to YouTube live quality, which is the quality of video playback when viewers are connected to the internet, YouTube is typically much higher than Facebook live quality. In general, viewers who are using YouTube live experience a crisper image and sound, while Facebook live viewers often experience a more muted experience.
YouTube live stream is considered to be a better quality than Facebook live stream. This is based on findings from two separate studies. One study looked at the quality of YouTube live streams and found that they were more reliable and accurate than Facebook live streams. The second study looked at how people reacted to different YouTube live streams and found that those who watched YouTube live streams felt more satisfied with the experience than those who watched Facebook live streams.


Advantages


Advantages of Facebook live
There are a few advantages to using Facebook live. First, people can connect with each other more easily because they can see each other's posts and comments in real-time. Additionally, people can share photos and videos more easily because they can share content through Facebook Live. And people can interact with other users more effectively because they have a direct line of communication.
Posting live video of a conversation on Facebook can be an advantage in many ways. For example, it can be used as an opportunity to engage with your audience and make sure they are able to understand what you are saying. Additionally, live streaming can also be used to promote your brand or product. Finally, live streaming can help you connect with people who may be interested in what you have to say.
Advantages of YouTube live
YouTube live allows viewers to interact directly with the performers, allowing for a more personal and intimate experience of music performance. Additionally, YouTube live is an ideal platform for launching new artist careers as fans can see their latest work before anyone else.
YouTube live stream can offer viewers a unique and valuable experience, as it allows them to be in the same room as the celebrities or athletes performing. It also gives viewers the ability to interact with the performers and ask questions. Additionally, YouTube live stream can provide a wider audience with which to share its content. Finally, because YouTube live stream is filmed on-demand, viewers can see what is happening right now without having to wait for an hour or more to watch a video.
Disadvantages


Disadvantages of Facebook live
There are several disadvantages to using Facebook live as a means of communication. One disadvantage is that users can't control the length of their live shows, which can lead to interceptions or videos that are not picked up by other social media platforms. Additionally, users may not be able to respond quickly to questions or comments if they are busy with other activities. Finally, users who use Facebook live may find it difficult to keep up with timely updates on their friends' lives.
The disadvantages of Facebook live are that:
1) The Quality of Facebook live stream is lower than YouTube
2) It can be difficult to control the playback of content.
3) Viewers can be divided into two groups based on their location.
4) This can create a conflict over who gets to see the content first.
5) Online trolls are often adept at spreading misinformation during live streaming.
Disadvantages of YouTube live
YouTube live is a video streaming service that allows users to view videos from the comfort of their own homes. This feature can be extremely beneficial for people who are unable or unwilling to leave their homes, as it means they can watch their favorite videos without having to worry about possible spoilers or interference from other users. However, there are also some disadvantages to YouTube live.
The disadvantages of YouTube live are that:
1) It is less efficient than watching video on a computer screen.
2) There is a delay between when events happen on YouTube and when they appear onscreen.
3) Videos can be ruined if they are interrupted or if the user's computer crashes.
4) There is no way to pause or fast-forward videos.
Tips




Tips for live streaming on Facebook and YouTube
It is always a good idea to use common sense when streaming videos online. If you do not have an account on one of the leading social media sites, it is best to avoid streaming any videos. It is also important to make sure that your computer is connected to the internet and that your device is not too old or too weak.
Then follow the billow tips-
CREATE A WINNING SETUP
Regardless what you may stream, you want to provide your viewers with a great quality viewing experience. Shaky visuals, low quality sound, or an unstable signal will cause cuttings and skips throughout playback, which will make your viewers uninterested in your program.
As you stream, a few of the things which you may wish to focus on include image and audio quality.
1. Location – Does the setting, including what is behind you in the frame, match the style of the broadcast or distract the viewer?
2. Lighting – Can viewers see you? Are there issues with shadows or bright lights?
3. Sound – Can viewers understand what you're saying, especially if you are out of doors?
4. Signal strength – Is your cell signal or Wi-Fi connection strong enough to sustain the broadcast?
5. Streaming device – Are you using a phone, computer or professional gear?
6. Aspect ratio – Would it be better to broadcast vertical video if you expect most people to watch it on their phones?
PREPARE FOR YOUR BROADCAST
Identify the primary topic you will be covering in a statement or presentation and then write an outline and a list of questions to engage your audience. It will help you keep on track and keep energy going if your viewers do not show much engagement or input.
PICK THE RIGHT TIME
Facebook Live's key functionality is that various audiences can speak to you or have other interactions as you record. If you are broadcasting an event, you may choose what to broadcast based on the time and day; however, choose a time when your followers are on Facebook most of the night and day.
PROMOTE YOUR BROADCAST AHEAD OF TIME
One Facebook's primary guidelines for live streaming is to notify your followers ahead of time about your stream time. Make the announcement, give a preview of the content, ask for audience feedback, and be certain your content leaves your audience waiting eagerly for the remainder of the session.
INTERACT WITH VIEWERS
Try to respond to viewers' comments as quickly as possible. When people introduce themselves, be sure to say hello to them by name. If viewers ask a question, provide an answer or introduce the topic again to ask the other viewers for their take on the situation. When you respond, don't forget to read some of the other people's responses. As viewers become more part of the broadcast, they'll appreciate being included in the discussion.
END INTENTIONALLY
End with a desired result, whether it's a summary of the exchange, a closing issue, apostille or a solicitation to watch the next broadcast. You can also use a call-to-action, suggesting next steps to speak. For example, if you are interviewing someone who is participating in your church's past mission project, you might say something.
When you're finished broadcasting, tap or click the "Finish" icon and wait for the "ping" sound to sound. That means your broadcast has ended. You can socialize or continue speaking before you hear that sound, but your conversations can still be accessed by viewers.
LIVE STREAM WITH nsboostbd SMM PANEL
YouTube and Facebook are the best places to live stream video. The most critical thing about these two platforms is acquiring more subscribers, view times, and followers. Obviously, these subscribers are what you need for your business, but first, you have to work hard. If you don't want to work hard, contact nsboostbd to buy views, view times, subscribers, and followers.
This SMM Panel platform allows users to live stream their entire event, including the start and end times, without having to worry about any of the technical difficulties.
Conclusions:
Facebook Live and YouTube Live are both popular social media platforms that allow users to share live events and content with friends and family. However, there are some differences between the two platforms that can make them more or less user-friendly.
In conclusion, if you want to be successful in your business, you need to work hard. If you don't want to work hard, contact nsboostbd to buy views, view times, subscribers, and followers. This SMM Panel will help get you started on your journey to becoming a successful business owner.